Meike has announced a new Canon EF to Nikon Z autofocus mount adapter. The adapter promises full electronic control of Canon's DSLR lenses through a range of Nikon mirrorless cameras.
The new MK-EFTZ-B adapter promises support for all Canon EF and EF-S lenses and the Nikon Z5, Z6, Z7, Z50, Z6 II, and Z7 II cameras. Meike promises complete support for autofocus. The electronic contacts enable photographers to directly control the lens through their camera, just as though the Canon lenses are native to Nikon Z mount.
Meike claims that the adapter works with both camera in-body image stability and lens stabilization. The company also says that the adapter transmits full EXIF data to the camera, made possible by the "excellent signal transmission" of its "gold plated pins."
As is typical with Meike product launches, the company only provides the bare minimum as far as information is concerned and there is not a lot else available to go on. The company does say that the adapter weighs 87 grams, measures 69 by 28. 3mm in size, and is made of high-quality materials.
Meike is so confident in the design of this adapter, it even promises it will be reliable and has "strong" water and dust resistance.
The adapter's side has an "AV" dial. However, the company does not explain its purpose.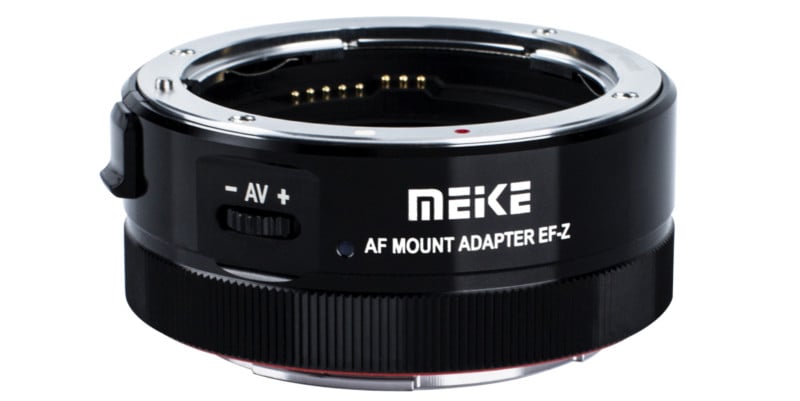 The Meike MK-EFTZ-B Autofocus Adapter for Canon EF/EF-s lenses to Nikon Z series cameras is available directly from the company's website for $160.
A Busy Year For Meike
In the past Meike only launched a handful of products at a time, but their 2022 strategy has been much more consistent. Meike has had a very busy year, having been expanding its adapter and lens lineup quite aggressively since the Spring. The company's strategy doesn't seem limited to targeting one or just a few camera brands or lens mounts, but runs the gamut of basically everyone.
It launched a 7. 5mm f/2. 8 lens and 12mm f/2 lens for multiple camera mounts as well as an 8mm f/2. 8 for specifically Micro Four Thirds cameras in May and early June. It added an 85mm f/1. 8 autofocus lens for E-mount cameras as well as a 50mm f/0. 95 for APS-C cameras later that month as well.
In August, the company also released a 10mm f/2 APS-C prime lens as well as a set of autofocus extension tubes for Panasonic cameras too.