A prominent French physicist is apologizing after admitting that a viral "distant star" photo he shared on Twitter was not actually captured by the $10 billion James Webb Space Telescope (JWST) but was rather just a slice of chorizo pork sausage.
On July 31st, Etienne Klein, research director of the French Alternative Energies and Atomic Energy Commission, tweeted the photo to his 90,000+ followers on Twitter and claimed that it was a new Webb telescope photo showing the closest star to our Sun.
"Picture of Proxima Centauri, the nearest star to the Sun, located 4. 2 light years away from us," Klein wrote in the Tweet (as translated by Google). "It was taken by the James Webb Space Telescope. This level of detail… A new world is unveiled day after day."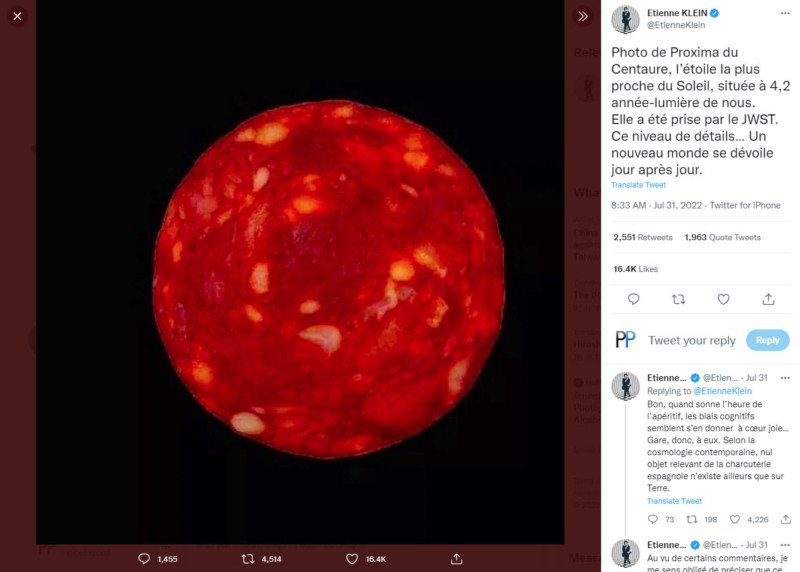 The tweet went viral and was retweeted thousands of times as people marveled at the imaging power of the Webb telescope, which has been wowing the world with never-before-possible space photos, including shots of the oldest galaxies ever observed.
In follow-up tweets, Klein revealed that what he had Tweeted was just a slice of Spanish sausage.
"Well, when it's cocktail hour, cognitive bias seem to find plenty to enjoy… Beware of it," Klein writes. According to modern cosmology, there is no Spanish charcuterie object other than Earth.
" In light of comments, I felt compelled clarify that the tweet that showed an alleged photo of Proxima Centauri's surface was intended to amuse. Let us learn to be wary of arguments from authority as much as of the spontaneous eloquence of certain images…"
After receiving angry backlash to his tweet, however, the scientist apologized a few days later for spreading "fake news" that confused quite a number of people, stating that it was just a joke that was intended to warn his followers to be cautious about photos seen online.
"I come to present my apologies to those whom my hoax, which had nothing original about it, may have shocked," he writes. I simply wanted to warn people with pictures that are eloquent enough on their own. A scientist's joke."
Klein also tweeted Webb's recent gorgeous photo of the Cartwheel Galaxy, assuring his followers that the photo was "real this time."
"This is the first time I've made a joke when I'm more on this network as a figure of scientific authority," the physicist later told the Paris-based news magazine Le Point. "The good news is that some immediately understood the deception, but it also took two tweets to clarify, "explains the researcher.
" It also shows that fake news on social networks is more popular than true news. It would have failed ."
if it wasn't for the fact that I said it was a James Webb photo.
The James Webb Space Telescope launched in December 2021 and officially began making scientific observations on July 12th, 2022. It is the world's largest optical telescope and uses its unparalleled imaging capabilities to take pioneering images of astronomy and cosmology.