Venus Optics has announced a set of Laowa Nanomorph anamorphic lenses that are designed for Super35, APS-C, and Micro Four-Third cameras. They feature Laowa's patented optical structure which makes them the smallest anamorphic lenses on the market.
With three different focal lengths of 27mm T2.8, 35mm T2.4, and 50 T2.4, the lenses are as fast as they are compact with a 1.5x constant squeeze ratio. The trio also has two different flare options of amber and blue, which are indicated by the color-coordinated stripes on the lenses. Laowa says the amber flares are complementary to skin tones and day/night shots, while the blue flares provide a cooler vibe which is especially sought after for science fiction film applications.
According to Laowa, most lower-cost anamorphic lenses sacrifice a constant squeeze ratio when they design in anamorphic blocks as part of the synchro focus design. These blocks are the simplest and cheapest way to create an anamorphic lens within an expected price range. But the company claims problems arise when so-called "anamorphic mumps" appear along the focal length, failing to maintain a constant squeeze ratio.
"Anamorphic mumps" refers to when the center of an image receives less horizontal squeeze when the lens is focused at short distances. This makes the desqueezed footage look strange and it's why early anamorphic work avoided closeups. This optical condition is also impossible to correct in post, making the footage unusable.
With the Nanomorph design, a constant 1.5x squeeze ratio of 2.66:1 on a 16:9 sensor is maintained without relying on the anamorphic block design. Believing that the 1.5x ratio is the "sweet spot" between the lens size and anamorphic look, Venus Optics has come up with a patented lens array that can guarantee a uniform squeeze ratio, and ensure optical quality without exploding either the size of the lens or the price.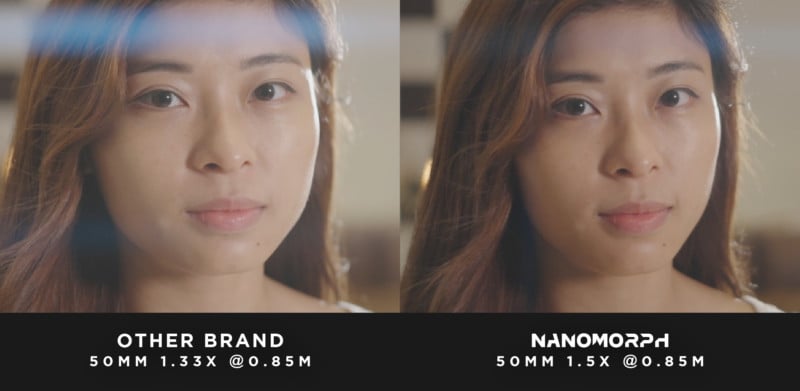 Each lens enjoys some of the shortest focusing distances in the category, ranging from 16.9 to27.5-inches from the subject to the sensor, with a smooth cinematic oval bokeh. The lenses weigh about 0.7 pounds each and are around 3.5-inches long, which is incredibly compact for their design. The lenses also have a shared 55mm lens diameter that allows them to use the same filters interchangeably.
Other features include a unified gear position to maintain the tactile nature of making quick adjustments after switching lenses while avoiding refocusing. There is also a 0.8 mod gear installed on both aperture and focusing rings, and dual imperial and metric scales printed on the focus ring. The company also included a focal back adjustment feature that can fine-tune the back focus with a 0.9mm hex key.
Available in a variety of user interchangeable lens mounts, the lenses can connect using Canon EF, PL mount, Canon R, Sony E, Micro Four Thirds, DJI DL, Nikon Z, Leica L, and Fujifilm X. Each lens comes with a single mount bayonet, with additional mount options available for $50.
Venus Optics has chosen to launch the cameras on IndiGoGo and competitively priced them at $999 for mirrorless mounts and $1,499 for EF and PL Mounts. The three lens set is available for $2,699 and $3,999 respectively. Lenses are expected to ship in August of 2022.
---
Disclaimer: Make sure you do your own research into any crowdfunding project you're considering backing. While we aim to only share legitimate and trustworthy campaigns, there's always a real chance that you can lose your money when backing any crowdfunded project.