Ricoh Imaging has announced the WG-80, a point-and-shoot style camera that features a rugged exterior and a built-in macro light that has been optimized for image capture in extreme conditions.
Super-Rugged Build
The main selling point of the WG-80, the successor to the now discontinued WG-70, is its heavy-duty build. The camera is designed to shoot as deep as 46-feet underwater for up to two hours of continuous operation — that is equivalent to an IPX 8 rating for JIS Class 8. Not only is it adept at underwater photography, but it is also shockproof against falls from a height of up to five feet (tested on thick plywood), is dust-proof with an IPX 6 or JIS Class 6 rating, is freeze-proof to temperatures as low as -10 degrees Celcius (14-degrees Fahrenheit), and is crush-proof against weights up to 100 kilograms of force.
Ricoh says that thanks to this array of protection against some of the harshest environments, it performs superbly even in the most demanding outdoor conditions.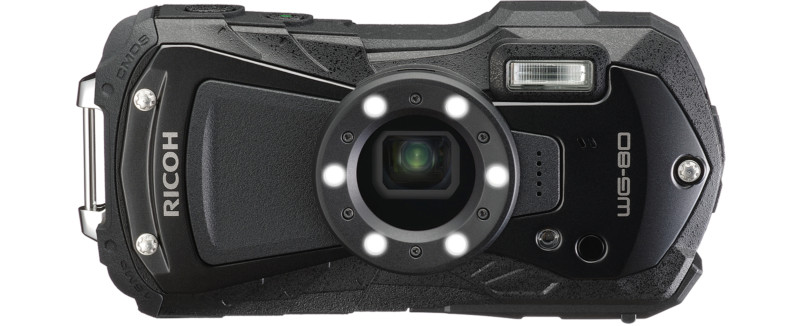 On that note, the WG-80 also has a dedicated underwater shooting mode. The Underwater and Underwater Movie modes are programmed to optimize color and contrast based on the data of images captured under the water. Ricoh claims these modes produce sharp images that look true to life by increasing the red shades, which are often lost underwater. The company also claims that the modes compensate for any loss in contrast due to the water's diffusion of light. The Flash Off + Flash On option in the Underwater mode allows you to simultaneously capture two images using one shutter release. One without flash, and the other with flash.
On the back of the camera is a 2. 7-inch LCD monitor with approximately 230,000 dots. It has an anti-reflection coating to minimize glare and reflections outdoors and also has an Outdoor View Setting mode that sets the optimal monitor brightness for current lighting conditions.
16-Megapixels, but no 4K
The Ricoh WG-80 features a 16-megapixel 1/2. 3-inch backside-illuminated CMOS sensor that the company says coupled with its high-performance imaging engine assures excellent low-light performance and can shoot as high as ISO 6,400. Ricoh also claims that the camera has advanced image processing capabilities to ensure sharp images.
For low-light photography, the WG-80 includes a feature called Handheld Night Snap mode, which automatically captures several images of the same nighttime scene and produces a single, blur-free composite image from them.
Unfortunately, the camera is capped at Full HD video capture and cannot shoot in 4K. Overall, its video features are rather bare-bones: it can shoot in H.264 at a frame rate of 30 frames per second. It does also include a high-speed function, but that footage is capped at 720p and Ricoh did not specify how many frames per second it can capture. The lack of 4K does make a bit more sense considering that Ricoh is marketing the WG-80 to both outdoor adventurers and for use on industrial sites where that kind of resolution would be considered overkill.
In front of that sensor is a 5x optical zoom lens. The 28-140mm f/3.5-f/5. 5 (equivalent compared to a 35mm format camera) lens also has a macro mode that is designed to capture close-ups with a minimum focusing distance of one centimeter.
To assist in macro capture, the WB-80 also has six built-in macro lights with various functions. Ricoh claims they are located around the barrel's circumference and provide uniform, bright light illumination for subjects when Digital Microscope mode has been selected. It provides lighting intensity almost double that that of the predecessor. A five-step intensity adjustment function can be used to adjust output according to specific situations.
In order to minimize camera shake and subject shake, the Instant Illumination Enhance function allows for the use of a higher shutter speed by automatically raising the discharge level of the Macro Lights at the moment of shutter release. The Macro Lights also have a Self-Portrait Assist mode, which uses the blink of an LED lamp to check if the subject's face has been safely captured within the picture frame, and the LED Lighting mode, which uses the Macro Lights as a flashlight in the dark.
Autofocus allows for both pet and face detection, the latter which allows it to capture as many as 32 faces in focus in approximately 0. 03 seconds. A "Smile Capture" feature will automatically fire the shutter when a smile is detected.
Pricing and Availability
The Ricoh WG-80 will be available in mid-June for $330.