Despite being the world's biggest photo-sharing app, Instagram is pushing full-steam ahead with its plan to focus on Reels and "recommended" content. So where do photographers go now?
Fed up with Instagram's TikTok-ification, photographers are tentatively moving to alternative platforms that prioritize still imagery — with certain photo-sharing apps seeing a boost in downloads as a result.
If you are thinking of quitting the Meta-owned app and want to find a new photo-sharing service, we have looked through all the options and picked the best ones to replace Instagram right now. Experts believe that there are no perfect replacements for Instagram. Artists are encouraged to look elsewhere but think of it as diversification, not as a full-on replacement.
At a Glance
Twitter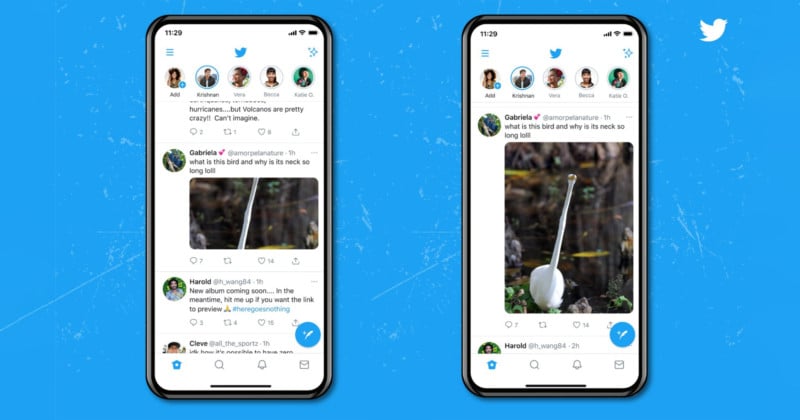 Twitter may not seem like the most obvious choice for photographers. However, after struggling with low engagement for traditional posts on Instagram, photographers have been positing Twitter as the next, best photo-sharing platform.
First, Twitter is home to a large community of photographers. The conversational nature of Twitter means that users engage more with the site than Instagram and other photo-centric sites. Twitter Spaces also allows photographers to connect with others in the community as well as create and join photography-related discussions with audio.
While Twitter used to be known for its image compression, the web app now supports higher-resolution images of up to 5MB for photos on mobile, and up to 15MB on the web. It also lets users tweet pictures in 4K. In order to enable the feature, users will have to go to the "data usage" section of the settings menu in the Twitter app. They will need to enable both "high-quality images" for viewing, and "high-quality image uploads" for tweeting them.
BeReal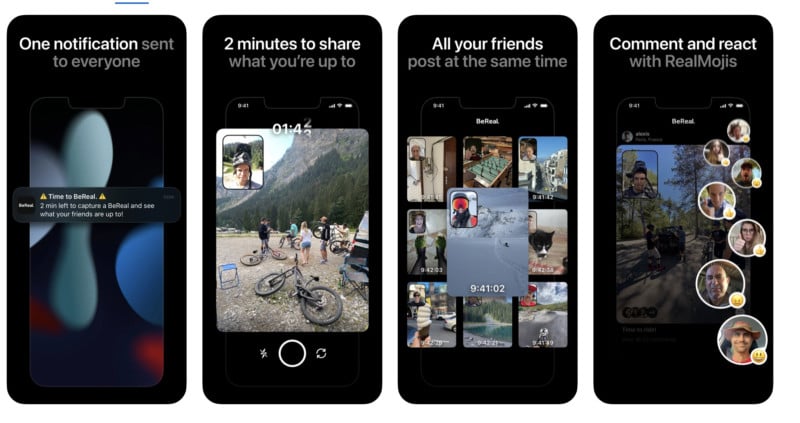 You may be skeptical of BeReal and its recent surge in popularity. But as it continues to hold on to its number one spot in the U.S. on Apple's App Store charts, it may be too soon to dismiss BeReal altogether.
Set up to be the "anti-Instagram," BeReal bans videos of any kind and only allows users to upload still photographs. Users can only post one image per day, and at random times.
BeReal encourages users to share authentic posts, so the app doesn't have any editing or filter options. Users are not able to choose when they want to share photos. Instead, they receive a notification to post a picture in their current surroundings and receive a two-minute timeframe to do so.
You can post late BeReals without real consequences. However, your friends may see your late post. In the right corner next to your post, you'll see a time stamp noting when you posted your BeReal — whether that was 20 minutes late, or 20 hours late.
When the shutter button is pressed, BeReal captures using both a front and rear-facing camera, making it impossible to hide behind the main camera. The bi-directional camera feature allows viewers to see the entire picture of the pose.
BeReal boasts that the app won't "make you famous" and that you have options to show off your photos on other platforms like Instagram and TikTok.
BeReal has two feeds: "Your Friends" and "Discovery." The Discovery tab lets you see BeReals from people all over the world and request to add them on the app, even if you are not friends. After taking BeReal pictures, tap the button to the bottom to upload photos for all to view on the Discovery tab.
BeReal's functionality is limited and still in the early stages. But there's legitimate interest in BeReal right now and if that continues, there will likely be additions and updates to the app. It is also worth noting the app is ad-free, and consequently some users have said BeReal has that feeling of nostalgia reminiscent of the halcyon days of Instagram.
Flickr
A pioneer in digital photography-sharing that had the loyalty of serious photographers in the mid-2000s, Flickr has been seen a growth in popularity in the recent months.
When Flickr began its journey in 2007, and with no Instagram around, it was the most popular site for photo-sharing. Though Flickr is not at the height of its popularity anymore, the platform still boasts over sixty million monthly active users across the globe, which makes it a worthy Instagram alternative for 2022.
Flickr offers a nice range of features when you upload a photo on the app. In addition to a comments section where other Flickr users can discuss your photography, you can also post information on where your image was taken, what camera it was taken on, and at what aperture. It is possible to organize and edit your pictures into albums.
The app has two types of accounts: Free and Pro. Flickr currently offers two types of accounts: Pro and Free. These free accounts have a number of restrictions. While users can only upload up to a maximum of 1,000 photos on free accounts, they are not allowed more than 50 nonpublic photos on the platform. The free account also includes ads.
While Flickr's Pro account offers unlimited uploads and unlimited nonpublic photos, it will set users back $8. 25 a month, $72 for one year, or $133 for two years.
Tumblr
Tumblr is another longtime photo-sharing favorite that photographers are returning back to, in the wake of Instagram's pivot to video.
Although Tumblr reached the height of its popularity in the mid-2000s, it has around 500 million registered accounts and more than 171 billion posts. Furthermore, the platform has experienced a resurgence with younger users in the last year, and now almost half of Tumblr's active users are aged 25 or under.
Tumblr users can create a blog where they can post photographs and text to accompany the images. Tumblr users can also reblog content from their other feeds. It is also easy to set up a shared account for collaborative postings, making Tumblr an excellent platform for photographers to engage with one another.
Tumblr also offers a feature called a "+Post" which lets you lock posts behind a paywall and allows your "supporters" to purchase a subscription to them.
Photographers who use Tumblr will tell you that the platform allows for more creative expression than the other social media giants, like Instagram or Twitter.
Tumblr can be used for free. However, if you want to view blogs ad-free, you will either need to pay $4. 99 per month for the monthly subscription, or $39. 99 per year for the annual subscription.
Grainery
If you are a film photography enthusiast who wants to find a new space for your images, away from Instagram, then this might be the app for you. Grainery is a new Instagram-inspired, photo-sharing app but specifically for film photographers.
The app's layout will be familiar to Instagram users, with photos displayed much like Meta's marquee photo-sharing site. Elements such as follower suggestions, direct messaging, explore page, notifications, and even the fonts are strikingly similar to Instagram.
But unlike Instagram, when Grainery users upload a photo, they can add details such as the type of film used, the analog camera body, and the lens model to the post. You can also indicate the exposure and whether or not the film was pulled at any point during the development process.
As soon as a photo has been uploaded, the app allows users to search for specific cameras, lenses, and films.
Grainery is now available and will soon launch for Android and iOS.
Glass
Glass has also reported a recent spike in user activity — with photographers recommending the platform as an Instagram alternative due to its singular focus on photography.
Glass is available on iOS as well as the web. It allows photographers to share their portfolios, and it also offers organic exploration through a public profile. Unlike Instagram, users can only react to posts with appreciation and not likes.
"We started working on Glass because we felt like the photo community that existed on Instagram that built the back of Instagram does not exist anymore," Glass head of community and marketing, Daniel Agee tells Axios, "2012, 2013 Instagram is never coming back. That internet will never return ."
Agee states that Instagram's sales and advertising model makes it difficult for photographers to upload their work. So instead, Glass offers a subscription-based service that costs $4. 99 a month or $29. 99 a year — with no ads, engagement algorithms or data tracking. There is a 14-day free trial available to try the platform.
The fact that Glass is ad-free makes its design notably cleaner than Instagram's layout, and Agee tells Axios that it even prohibits brands from signing up to the platform.
VSCO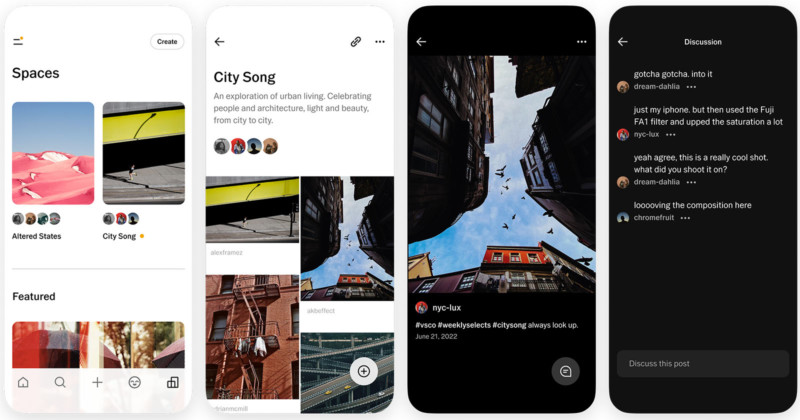 Founded in 2011, VSCO is an online space for photographers to store, edit, and share their work.
Last month, VSCO rolled out its social network-like community feature, Spaces. The company positions Spaces as a new way to connect with other photographers through visual conversations and shared galleries "around a particular theme, photography style, event, or location."
The free version of the app comes with a limited number of editing features. However, with a VSCO membership, you will unlock access to over 200 Presets and advanced editing tools. VSCO membership costs $7. 99 a month, or $29. 99 a year and there is a seven-day free trial available.
500px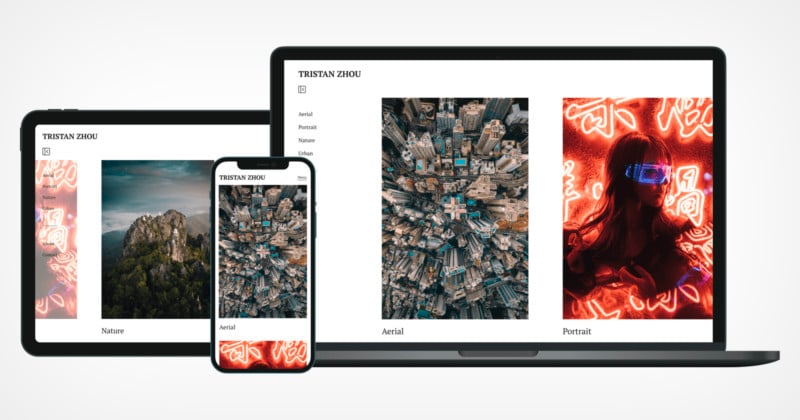 With over 15 million active users, 500px offers professional photographers a place to store, exhibit, as well as license their work and get paid for it. 500px used to be the darling of the photo sharing world before it was sold to Chinese stock company VCG and after a series of questionable decisions and a security breach led it to fall out of favor with photographers. It is possible to bring it back with Instagram's current direction.
On 500px, photography is the main focus and users' images are displayed prominently as part of the platform's design. The "Discover" dropdown menu allows you to see new uploads by other users as well as images that the editor has chosen to give exposure to. Images that are popular can be viewed and comments can also be made by other users.
The free 500px plan allows you to upload up to seven photos on the platform each week and also has ads. But if you want unlimited uploads, priority support, no ads, a history of "liked" photos, gallery slideshows, and a profile badge as part of 500px's "Awesome" plan, it will cost you $59. 88 a year or $4. 99 monthly. Meanwhile, the "Pro" package, which enables users to create a portfolio website and access photography resources, will cost $5. 99 monthly or $71. 88 a year.
Available for both Android and iOS users, 500px is designed to be used on both mobile and desktop, giving an enhanced viewing experience.
---
Image credits: Elements of header photo licensed via Depositphotos.