Adobe has announced new performance updates for Premiere Pro that include new hardware encoding support for macOS and AMD GPUs on Windows, which it says results in much faster export times.
Faster Exports and Other Speed Improvements
Adobe says that it dramatically improved export times on M1 and Intel-based Macs, with up to 10 times faster exports for 10-bit 4:2:0 HEVC.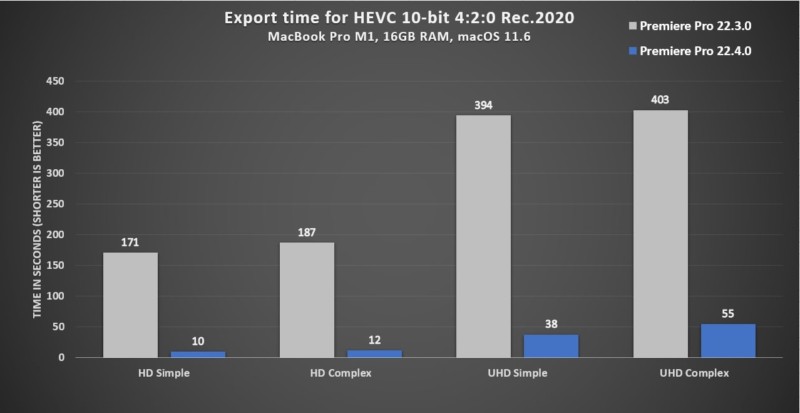 Windows machines with AMD GPUs also see 10 times faster export for 10-bit 4:2:0 HEVC.
To access these faster export times, select HEVC from the Format drop-down under Export Settings. Then under the Video tab, go to Encoding Settings. If the system supports hardware encoding, the Performance field is set to Hardware Encoding. Set the profile level to Main 10. Setting it to Software Encoding will disable hardware encoding, and Adobe Premiere Pro won't use hardware to encode the media.
In addition to these export speed improvements, Adobe says it also improved Quicktime screen recording and made smart rendering improvements. The company says that screen recordings made with QuickTime should play back smoother and scrub better when placed in a Premiere timeline. Smart rendering was also improved to be more reliable and faster for supported formats.
New Features
Adobe did not just improve the performance of Premiere Pro but also added three new features to the popular editor.
First, it now allows GIFs with transparency to be exported. The option can be seen in the Transparency section of the export pane, which now includes the ability to select "Dithered." Adobe says this was added to make it easier to create content for social media.
The company also made it possible to distribute objects on the Program Monitor by moving text or shapes in a way that their edges are equally distant from each other.
Finally, Premiere Pro now allows editors to create HDR proxies of media. Adobe says that HDR proxies match the originals visually while providing improved performance while editing.
To create proxies in Premiere Pro, right-click on your media in the Project panel and choose Proxy > Create Proxies. Then select the preferred format. Adobe Media Encoder generates proxies in the background so editors can continue working. Once the proxies are ready, Premiere Pro automatically swaps them in.
Editors can easily toggle back and forth between the proxies and your source files, for example, to check for quality, crop in on high-resolution footage, or color grading.
Adobe Premiere Pro version 22.4 is available now.
---
Image credits: Header photo licensed via Depositphotos. All others by Adobe.