Photographer and lens enthusiast Mathieu Stern has attached a disposable camera lens to a Sony Alpha A7 II to recreate the 1990s look.
Disposable cameras in the 90s were extremely popular for capturing life's moments and offered a definitive look that their plastic, aspherical 14mm f/10 lenses provided. Stern says that the Kodak Funsaver disposable camera was "the most successful camera ever created." "This is the look of the 90s, as almost everyone shot pictures using those cheap plastic single-use cameras."
The first challenge was securing the Kodak Funsaver disposable camera. While they are relatively out of fashion since smartphones took over the shutterbug world, they are still available for purchase at stores.
Stern says that once purchased and the film used, it's easy to simply ask for the camera back after developing. However, before spending $15-30, it pays off to talk to the store's photo development department to see if they have any leftovers after developing the film. They may have one left over that they can give away.
Stern was fortunate, however, that a friend sent him one to build his own lens with. The other part is a cheap plastic camera body cap, which will serve as the lens mount for the camera. Stern drilled a 16mm hole in the dead center of the body cap. This hole will be used as the housing for the Funsaver plastic lens.
Next came breaking down the disposable camera to harvest the lens parts and removing the battery. Once breaking opened the camera case, Stern had to be careful as it was possible that the capacitor that powered the camera flash would be charged. The capacitor can be touched and cause injury.
Removing a few screws that mounted the 14mm f/10 lens, and clipping away the excess plastic, Stern had his final part. Stern placed his lens into the hole. It was a tight fit so no glue was required. In a matter of minutes, Stern had his DIY lens that would bring back that 90s aesthetic, complete with color fringing and chromatic aberration.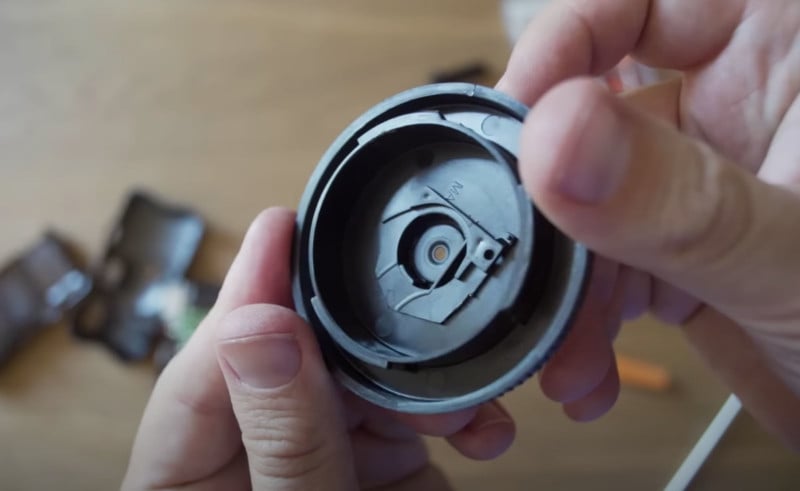 Overall, Stern found that the lens delivered better quality images than he expected, in spite of its aged photo album look. Stern stated that the lens produced a much better quality image than I had expected. "And it's pretty sharp for a plastic lens." Stern also mentioned that the 90s look can even be improved upon using curves in Photoshop.
Being chiefly designed to take images of people and places, the focus-free lens offers an image distance of six feet to infinity. Stern realized that he could make it a macro lens to capture small objects close up using an extension tube.
If a photographer isn't looking to spend a lot on a macro lens, that will be used a lot in their camera bag and lose its value over time, this diy lens can be created by simply buying an extension tube. But that can even be created DIY with this trick we looked at a few years ago.
The DIY disposable lens for camera is all about trying to recreate a look from the past and recalling fond memories. As Stern surmises, "with a few simple parts and some imagination, money is no excuse to experiment with photography."
Stern is known for creating strange DIY lenses including using a lens from 1880 on your camera, and creating a lens made out of ice he harvested from an iceberg.
More of his work can be found on YouTube, as well as Instagram.
Image credits: All photos by Mathieu Stern.