A British man has built his own lens with a super fast 35mm f/0.4 equivalent bokeh that is constructed around an old episcope projector lens and a mechanical system for controlling focus.
Matt Perks, aka DIYPerks, is a tinkerer who doesn't buy anything he can't build. On his YouTube channel, Perks has built everything from a DIY 4K home cinema projector to a DIY microphone for recording audio in his home-built studio with home-built video lights.
In this case, Perks turned his attention to a vintage episcope lens harvested from an old art projector. An episcope projector was very popular in the 1960s and 1970s and would fit over a piece of art or any object that a user would want to project onto a wall or screen. They were popular in schools due to their low cost and bright projected image, which was gained by shining light within the projector housing, down towards the subject. The light would then reflect off a mirror and through the episcope lens onto the wall.
As Perks admits, episcopes have largely been left behind by the steady march of technology into the digital realm which he clearly sees as a real shame because the episcope lens offers a remarkable bokeh thanks to its incredibly large image field — on the order of 500mm. To put that in perspective, the standard smartphone camera image sensor has an image circle of roughly eight millimeters, or 0.016 the size.
To achieve the goal of using the episcopic lens with his camera, Perks would have to create a huge housing and focusing mechanism from scratch. And even then, the largest impediment to capturing an image, is that there isn't a digital image sensor made that is large enough to capture the entire image circle the episcope lens can offer.
One option would be to capture the image as it is being projected off the wall, but that comes with its own set of image quality issues from distortion to noise. Not to mention it would prevent any kind of mobile use at all.
The other option would be to project the image onto an opaque surface and then capture the image from that. This opened up the possibility of taking the array just about anywhere if the design was portable enough.
Perks used a diffuser sandwiched between two pieces of acrylic and then built around a pyramid-shaped aluminum housing as a custom light screen. Two, actually: one to hold the episcope lens, and one for his Canon R5 full-frame mirrorless camera. He then added a Fresnel lens in between to eliminate unwanted vignetting.
With an origami folded black bellows to block out as much adjacent light as possible, and a 3D printed joystick focusing mechanism to control the entire system, Perks was ready to test out his cumbersome, yet interesting array. The results can best be described as looking more like a direct sensor image, rather than capturing a reflection from an opaque surface.
The episcope lens optically produces a dreamlike image with incredible background separation. Perks worked out that his custom lens array has a crop factor of 0.08 and an aperture of f/0.4, which Perks claims makes his rig twice as fast as a $200,000 Zeiss 50mm f/0.7. The array even works with a smartphone, creating an optical bokeh far more natural than the simulated replication today's handsets produce through computational photography.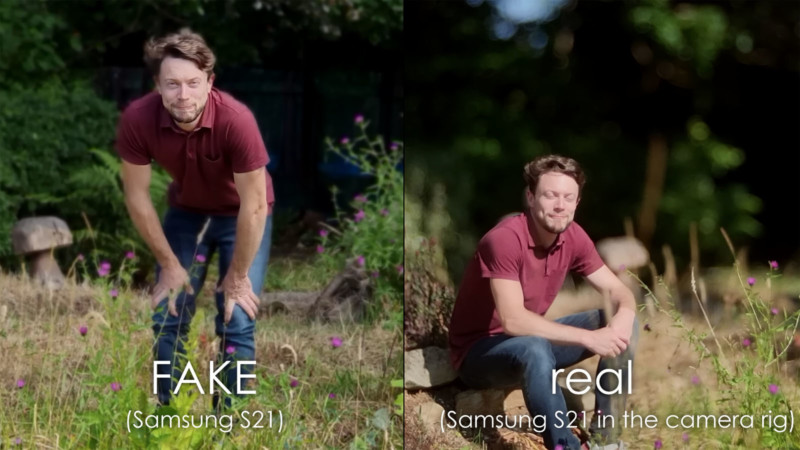 The total cost to build his DIY "Perkiscope" episcope lens array is only $200. Perks has promised a download link for all the plans to build an episcope camera rig of your own, but at the time of publication, it had not yet appeared in the video description. Even armed with those instructions, the lens itself may be the hardest thing to source for the project due to its vintage nature.
---
Image credits: All photos by Matt Perks