Photographer Bernhard Lang flew over thousands of decommissioned military aircraft and captured fascinating images of the seemingly endless rows of fighter jets, helicopters, and massive cargo planes.
Lang aerially photographed the 309th Aerospace Maintenance and Regeneration Group (309th AMARG) — better known as the Boneyard — in Tucson, Arizona, in March 2022. It is the world's largest aircraft storage and preservation facility and holds almost 4,000 aircraft.
The mesmerizing photographs by the German photographer show civilian and military aircraft arranged in straight rows, contrasted with the orange-tinted soil of the Arizonian Desert. He's previously photographed beverage crates from the air.
Some of these planes are ready for action while others have their tails or wings damaged. Speaking to PetaPixel, Lang explained that the site caught his attention after observing photos taken from the ground of the Boneyard.
"I found it quite interesting with its long rows of aircraft. Lang says that this made Lang think it might be visually interesting from the top.
Of course you cannot fly above this military-related area without first asking — especially since there is an active military airfield right next to it.
Each row is organized by model and size, including civilian airliners that were retired after the demand for air travel plummeted because of the Covid pandemic.
The Boneyard covers 2,600 acres and military aircraft are either parked during temporary non-use or cannibalized and recycled. Resellable parts are taken out and recycled, while raw materials are separated and sent to recycling.
The Boneyard, despite its name, also houses planes that might harbor some hope of flying again, a topic brought into focus by the war in Ukraine and the need to deliver arms to the country to help it resist the Russian invasion.
The Boneyard was created to preserve the planes and make them airworthy again, if needed. I think a current topic in times of the Ukraine war and the global discussion about deliveries of arms," Lang says.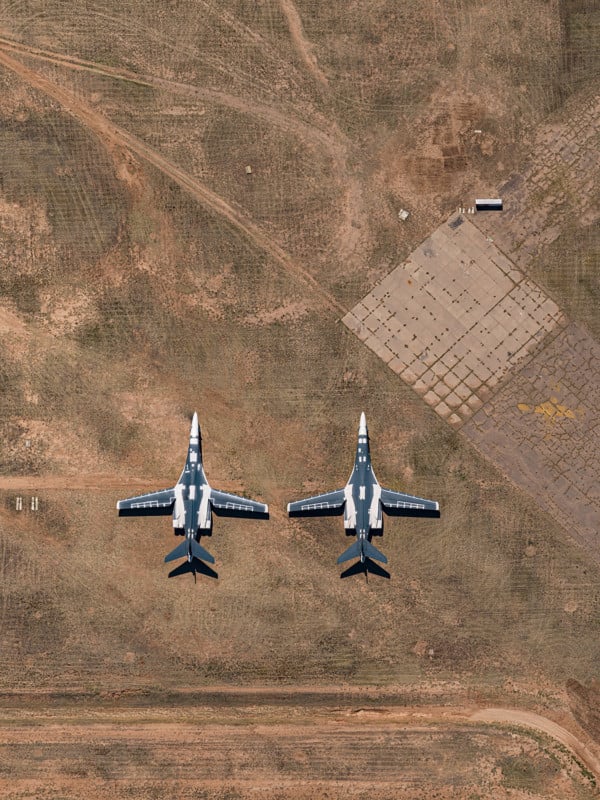 "Visually standing out to me were the real big C-5A Galaxy transport machines in blue color and the well-known B-52 Bombers. And there were also huge amounts of helicopters wrapped in white, which caught my eye."
The arid desert climate makes the 309th AMARG an ideal location for storing aircraft because there is very little humidity in the air that would corrode metal. Furthermore, the surface is hard so that aircraft do not sink into the ground.
More from Lang can be seen on his website and Instagram.
---
Image credits: Photos by Bernhard Lang