Instagram, YouTube, and Twitter have all been chasing TikTok's domination in short-form video for some time now. While its rivals focus on short-form videos, TikTok is now focusing on photography.
The wildly popular short video app has directly taken on Instagram with the announcement of its new "Photo Mode" feature. With Instagram's roots as a photo sharing app barely recognisable, and Generation Z now using TikTok to share their photos anyway, it is time for Instagram to move to TikTok.
Here's how you can use TikTok's Photo Mode.
Table of Contents
What is the New Photo Mode on TikTok?
TikTok introduced its new Photo Mode in a brief blog post on Thursday.
" "Photo Mode" is a mobile-friendly format for photos that allows users to share high quality images via TikTok.
The new feature allows users to share a photo or multiple photos in a post on TikTok alongside music and a caption that can be up to 2,200 characters long.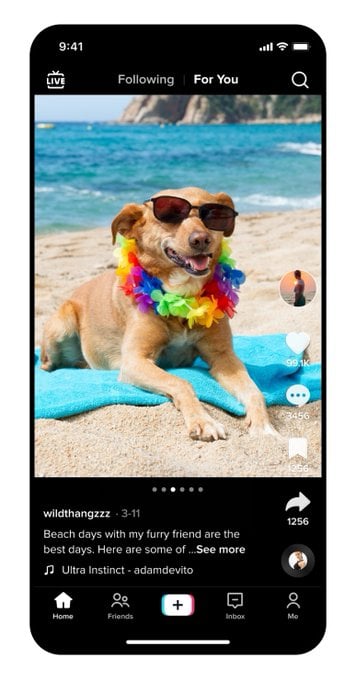 Photo Mode looks almost identical to Instagram, with TikTok users able to upload still photos standalone or as part of a carousel format.
Your TikTok users can see the photo carousel that you have posted through Photo Mode at their leisure. They simply need to swipe through all the featured images and they will display them one by one.
TikTok's Photo Mode does have one feature that differentiates it from a standard post on Instagram: users have the ability to add music to a Photo Mode post. And TikTok users have been taking to Twitter to show how this new music feature allows them to make more creative photo content.
The way TikTok users have adopted Photo Mode is SO creative – I've never seen anything this engaging in an IG carousel https://t.co/khnhfF66vo pic.twitter.com/8uAnd9e6f5

— Jessie Perlo (@perl0r) October 6, 2022
Photo Mode differs from TikTok Templates, which allows users to upload images that transition between each other as a video post.
How Do I Share Photos on TikTok?
If you are used to sharing photos on Instagram, then using TikTok's Photo Mode should be fairly straightforward.
To access Photo Mode, open the TikTok App and click the "+" button to create a post. Click "Upload" and then select an image or multiple images from your camera roll to upload on TikTok.
TikTok will then give you the option to "Switch to photo mode," which turns the images into a carousel post.
TikTok can automatically add music to your images. The app will select "Unholy", by Sam Smith and Kim Petras, or "B.O.T.A" (Badest of All), by Eliza Rose.
However, you can change the music and edit the images using the available tools on TikTok Photo Mode. You can add a different sound, apply filters, turn on enhance for photos, and add stickers or text to your carousel.
There are four types of filters: landscape, portrait, food and vibe. For example, in the food category, you can choose between filters such as "Fresh", "Tasty, "Brew," and "Sizzle". Meanwhile in the vibe category, you can select from filters like "Tonal", "Pewter," and "Fade."
In stickers, you can choose to add emojis, stickers, and GIFs to your post.
There is also the ability to crop your photos to a 9:16, 3:4, 1:1, or 4:3 ratio.
Once you've edited your photos, you'll be sent to the final page before you can post your carousel. On this page, you can choose to describe your post in a caption of up to 2,200 characters, add hashtags, mention other TikTok creators, and tag people. The page allows you to choose the people who will see your post, as well as whether comments and duets are allowed on your carousel.
Finally, you can share the slideshow and it will be available to your followers and other TikTok users if you have a public account.
Is TikTok's Photo Mode Available For Everyone?
TikTok started rolling out the Photo Mode to users in the United States and other regions globally on Thursday. This feature is only currently available for iOS and Android TikTok applications. Photos shared via Photo Mode cannot be seen on the browser-based service. They can only been viewed while the app is open.
If you are unable to see Photo Mode available on your device yet, make sure you are using the latest version of the TikTok app. You can check the Apple App Store, Google Play Store for TikTok updates. If there isn't an update available yet, uninstall the app from your device.
Now, turn off your device. After a few seconds, it will come back on. After that, head to your local store to install TikTok. You should be able to use the new Photo Mode on the app now.