The death of the DSLR was long rumored. However, even with the RF, Z and mirrorless systems being introduced, the camera still shows signs of life. But dedicated lens manufacturers might finally have killed it off.
It's worth refreshing where we are now at the tail end of 2022 by first thinking about interchangeable lens cameras (ILC) from the first shipment records in the 1970s through to the present day (chart below). Because we are looking at ILCs, we can ignore the compact and smartphone market which is largely adjunct to this.
What we see is gradually increasing market shipments that really picked up in the 2000s as digital took over, peaking in 2013. It is, therefore, notable that at that height of DSLR market saturation, the real seeds of change were sown with the arrival of the Sony Alpha 7.
Since 2012, DSLR shipments have been in freefall. What is clear is the rise of the mirrorless camera (chart below), although this isn't making up for the losses incurred from DSLRs. That said, the value of those shipments is rising, showing that manufacturers have managed to persuade consumers to pay more for the cameras they purchase. The first tentative steps of Olympus and Panasonic in the mirrorless space are finally bearing fruit, although the winners appear to be Sony and Canon.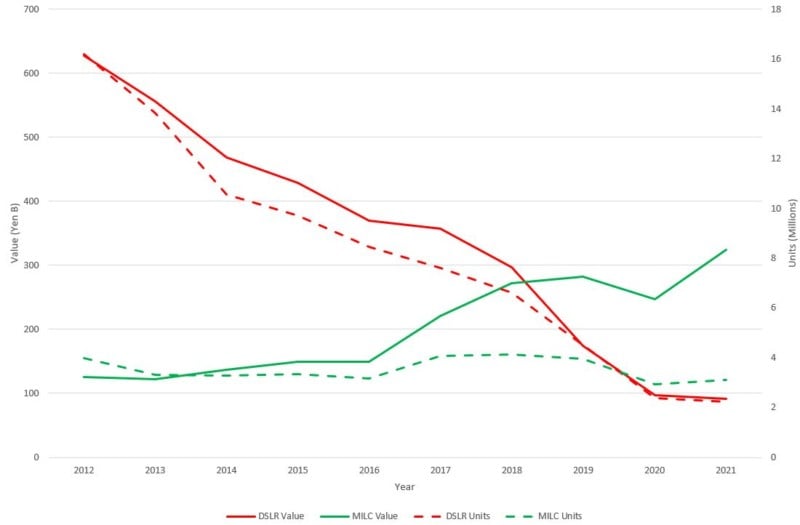 The release of the Z and RF systems in 2018 by Nikon and Canon signaled intent from both manufacturers to finally shift their R&D to the mirrorless format, however F, EF, and EF-M cameras were still subsequently released. Pentax also continued to promote the DSLR's benefits to the market, and continues to do so.
When buying into an ILC system, the obvious point is that you need to be able to purchase both cameras and lenses. You can purchase new or second-hand DSLR bodies, which will ensure the DSLR's longevity for at least the short term. In fact, Nikon's last film body — the F6 — was in production from 2004 to 2020 showing that the market clearly had a long tail. But then, photographers knew what they were buying into with film and F-mount lenses were not only in production but actively being developed.
The Mirrorless Spin-Up
With no new DSLRs released by Nikon and Canon in the last two years, the focus is firmly on mirrorless and while we all gawp at the latest technologies in the camera bodies, the real work going on behind the scenes has been in refactoring production lines (complicated by COVID shutdowns and supply problems) and completing the R&D required for a whole new — re-imagined — range of lenses.
This parallels the original F — released by Nikon in 1959 — where nine lenses were available at launch and rapidly expanded. People bought into a system that was viable from day one and grew quickly in terms of lenses and accessories. The popularity of any system can be gauged by the quantity of third-party accessories and, in particular, lenses. This indicates overall demand from consumers and how the wider market is responding to meet that demand.
And the demand for the F-system was strong. Fast forward to 2018 and the Z-system was released with three lenses, accompanied by the FTZ-adapter to make it fully compatible with some 90 Nikkor F-mount lenses.
The FTZ was only ever a stop-gap to persuade photographers to buy Z-system camera bodies on the promise that the lenses were on the way (28 currently) and with no new DSLRs released since the beginning of 2020, it's clear that while production continues it is limited. More pertinently, Nikon has made a clear statement that not only will the DSLR make up a small proportion of future sales, but that it no longer sees itself as a camera company.
The question then remains as to how long DSLRs will remain in production. With a film camera the quality of the final image is dependent upon the film you use; not so with digital and the underpinning technology rapidly dates. That's not to say they are unusable, as they clearly continue to work, but whether anyone will get nostalgic for that 2017 "D850 look" remains to be seen.
The rush to produce mirrorless cameras has caused a reduction in DSLR production. This has affected DSLR lens sales. Of course, existing DSLR users will continue purchasing lenses, but if you have a camera refresh cycle of two, five, or 10 years, are you seriously likely to buy any more DSLR lenses knowing that future development is for mirrorless?
The drive towards mirrorless requires a complicated interplay of supply and demand. Are manufacturers restricting supply to manage production lines and encourage consumers to buy mirrorless? Or have consumers lengthened their refresh cycles and waiting for a mature mirrorless system to buy into? Whatever the case, the DSLR is in freefall and the money (some 68% of it) is being generated by mirrorless shipments.
Third-Party Lenses Evaporate
The exo-supply system for camera lenses and accessories demonstrates how the market is responding to these changes and perhaps the biggest response has been the gradual removal of some 40 DSLR lenses between Sigma and Tamron in the U.K. and United States. This follows Nikon and Canon's removal of 35 and 30 lenses respectively.
Using F-mount lenses, it is clear that new lenses can be purchased. The options are now much smaller. Nikon, for example, offers 14 lenses — including all the principal prime focal lengths — and while the wedding photographer's favorite 24-70mm f/2. 8 remains available, the 70-200mm f/2. 8 isn't. Sigma offers 21 options, again including the 24-70mm f/2. 8 but not the 70-200m f/2.8. Tamron has been more aggressive in stripping out options leaving just seven lenses, mostly zooms although it does include the 70-200m f/2. 8, if stockists can get it.
As we noted recently, most of the Sigma lenses that have been discontinued are old designs which highlights two trends that are taking place. As new designs come out, older and more complicated optical designs will be removed.
It is not logical to introduce a new model in the DSLR market. If you are going to revamp a lineup then switching to mirrorless makes more sense. Second, there are commercial pressures. Low-cost models can be made from the same line and could possibly remain financially viable. This is likely why Nikon keeps a series of F-mount primes.
However, this switch to manufacturing mirrorless lenses has been made more complicated by Canon's refusal to license its lens IP to third parties, in stark contrast to Nikon, Sony, and Fujifilm. Given Canon's successes so far it would seem foolish to believe that this will deter customers. However, other manufacturers could have greater third-party support and availability as well as lower prices. In fact, it's suggested that Nikon has used some Tamron optical designs in recent zoom releases which can only be good for the consumer. All of these have not considered South Korean manufacturers, such as Samyang and Viltrox. The latter has only three AF-mount lenses at the moment which indicates that the emphasis will be on mirrorless.
All of this brings us back the initial point about being able to buy both lenses and cameras. These seem to be disappearing quickly. Tamron and Sigma may well have confirmed the death of the DSLR. Live long, mirrorless.
---
Image credits: Header photo licensed via Depositphotos.