Francois Brunelle's photo project on doppelgangers inspired a team of researchers to study the lookalikes and discovered that it is not just facial similarities they have in common.
After viewing Brunelle's incredible photos, a team of geneticists from the Leukemia Researching Institute in Spain investigated 32 doppelganger couples and found that they also have similar DNA and behaviors.
In fact, half of the doppelganger couples were found to be more like identical twins with comparable genotypes, a DNA sequence each individual has.
The scientists, led by Dr. Manel Esteller, also found that the doppelgangers have similar height and weight and even shared the same habits such as smoking and education.
Brunelle tells PetaPixel that Dr. Esteller reached out to him after seeing a New York Times article in 2014 about his project I'm not a look-alike!.
"[I felt] very good [when they made contact]," Brunelle says. "Out of curiosity, to know more about the look-alikes and to participate in something much bigger than my humble project."
Brunelle met Dr. Esteller in Madrid and Barcelona and the team reached out to people who had been caught through Brunelle's lens.
Doppelganger Study
The researchers used facial recognition algorithms, lifestyle questionnaires, and DNA swabs in their method.
They used three facial recognition algorithms in order to establish an objective measurement of the likeness between pairs. They used several programs because each system can provide variable results, so the more outcomes the better the conclusion will be.
Participants completed questionnaires about their lifestyles which revealed their jobs, education, and habits. They also provided saliva samples for DNA analysis.
This unique collection of samples allowed us to examine how epigenomics and genomics may contribute to human resemblance," Dr. Esteller said.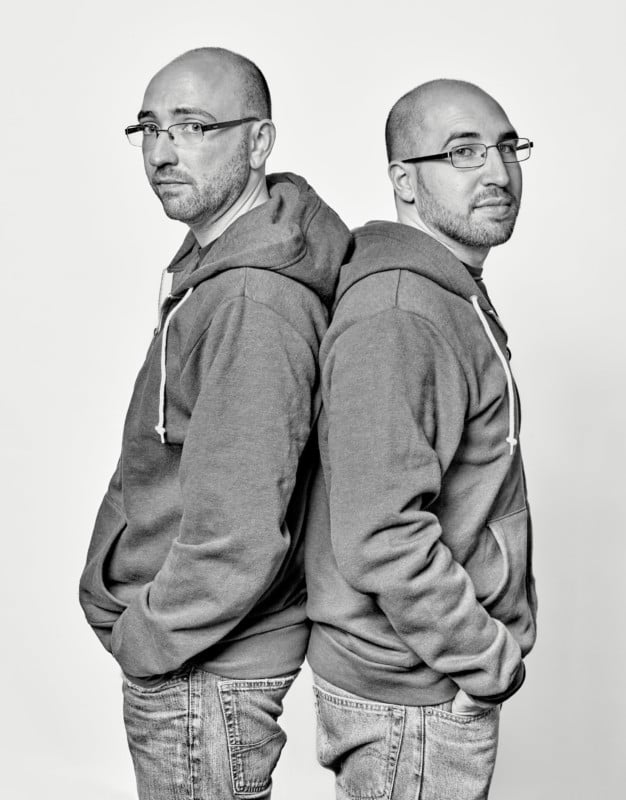 The team collected 68 biometric and lifestyle attributes from the 32 pairs, which led them to find a correlation with height, weight, and behavioral traits.
"Overall, we provided a unique insight into the molecular characteristics that potentially influence the construction of the human face," the team wrote in the study published in Cell Reports. We suggest these determinants are related to both the physical and psychological attributes of human beings. These findings provide a molecular basis for future applications in various fields such as biomedicine, evolution, and forensics."
The researchers highlight several limitations of the study, including the small sample size, use of 2D black-and-white images, and lack of diversity among participants. The researchers hope that the results could be useful in future researches, including biomedicine and evolution as well as forensics.
Brunelle, for his part believes his project is all about identity and people discovering themselves.
"Who am I? The person I am looking at in the mirror (what if someone else, somewhere is looking at the same person, more or less) or something else that is not related to my appearance?"
More of Brunelle's work can be found on his website.
---
Image credits: All photos by Francois Brunelle.