Bloom has announced a new gallery and image proofing system for photographers that is included with the free tier of its studio management application. The company says it offers the same features that many other services ask upwards of $50 a month for.
The photography-focused customer relation manager (CRM), created a totally free invoice tool for photographers and added a photo gallery, image proofing and other features.
"Most image delivery services photographers use are a separate subscription, charging an average of $50 a month or more depending on the storage plan," Bloom says. These services don't include contracts or invoices. Bloom is the first completely free image delivery service offering 100GB of storage plus managment tools like invoicing at no extra cost."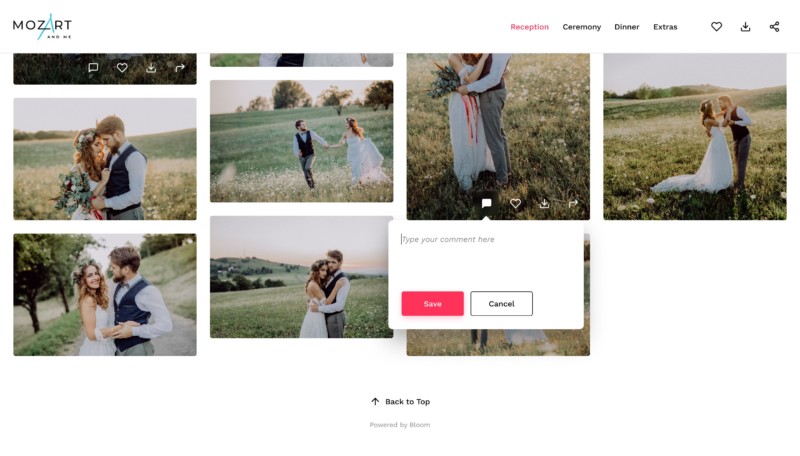 Bloom offers two tiers of its service: Starter and Premium. The Starter service is free and allows you to create quotes, invoices and accept payments. It also includes the ability of managing projects and has access to a proofing and client gallery.
The company says that the new galleries feature allows photographers to share their work with clients who can "heart" (equivalent to favorite) photos and leave comments.
Bloom says the gallery images can be tracked and that clients have the option to pay for projects and get photos through the site. The system allows photographers to share private galleries, review any feedback that is provided to them through it, and enable downloads. The system allows clients to choose from various sizes of images and then download the files as needed.
"With interactive elements, sleek designs as well as aesthetically pleasing -this new image gallery is giving outdated image delivery apps a run for their money," the company says.
The free plan includes up to 100GB of photo storage, but an upgrade to the Premium tier increases that to a terabyte. Additional storage can be added for $10 per month per terabyte. Theoretically, a photographer could use Bloom entirely for free by removing galleries as they are complete so they would never hit that 100GB limit.
Bloom admits that compared to some of the other options for galleries and proofing, it doesn't have a slideshow feature or a print shop available — but those features are "coming soon."