Portable USB-powered displays aren't new but can be very helpful for editors on the move to get access to more screen real estate. Acer's new model turns things up a notch though and can take a 2D image and make it appear as if it were 3D.
The advantage of having more than one monitor is fairly obvious. A larger screen area means a more efficient and effective workflow. Even more so when you are working with a laptop in the field. The portable, USB-powered LED screen was created to reduce the size and weight of the secondary monitor without losing any space.
Acer's SpatialLabs View and SpatialLabs View Pro monitors provide all that real estate but also combine a hardware optical lens display with artificial intelligence to transform a 2D image into a stereoscopic conversion and make the image appear 3D without the need for glasses or a virtual reality headset.
The technology is similar to Dimenco's 8K stereoscopic monitor, but a lot smaller and with less resolution. By reading the viewer's eye movement through a pair of eye tracking cameras, SpatialLabs says the tech works by creating a set of images for each through the optical lens at the right angle to simulate a 3D experience.
The display was designed initially for CAD designers, 3D animators, content creators, and developers who need to see how edits are affected in a 3D space, but the SpatialLabs portable has expanded its customer base to include gamers through Acer's SpatialLabs TrueGame platform.
TrueGame can harness depth and distance information from the game code to tell the game exactly where each subject or object are in any given scene. SoatialLabs displays the image more accurately and uses shading and driver technologies to improve the scene.
Acer says that by using this technique, a scene can appear far roomier than can normally be shown on the 15. 6-inch screen size, making the objects and subjects in a scene appear "genuinely layered."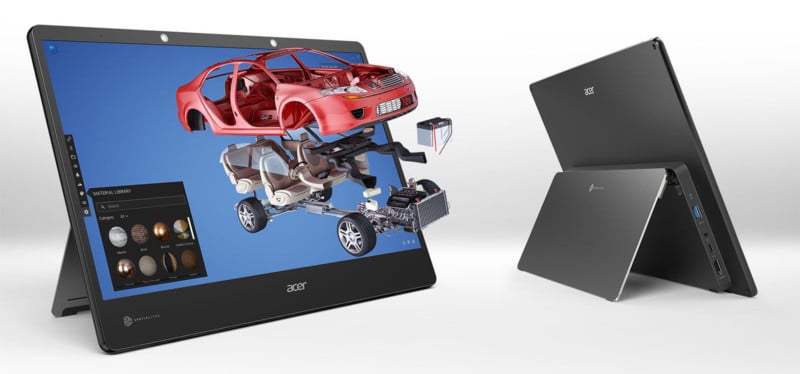 TrueGame technology also provides a larger game space for mobile gamers. Upon its release, TrueGame will support more than 50 games including BioShock Infinite, Borderlands 2, Forza Horizon 4 and 5, God of War, No Man's Sky, The Witcher 3: Wild Hunt, and Tiny Tina's Wonderland, with many more games on the way. The only real downside is its refresh rate, which is capped at 60hz which isn't considered fast enough for many gamers.
Software packages Cinema 4D, Revit, and Solidworks are supported, along with associated files including such as Acer said the portable monitor supports "all major file formats," including OBJ, FBX, STEP, STL, COLLADA, IGES, glTF, 3DS, BLEND, PLY, DAE, IGS, and Datasmith.
Users of Autodesk Maya or Blender can work in their normal 2D environment, and then view changes in 3D using the SpatialLabs monitor without additional rendering. Sketchfab is also a potential third-party app for working on 3D models for video.
Still photography can also take advantage of this technology, with the display being able to convert regular 2D stills into 3D images that Acer proclaims come to life.
Acer recommends using laptops and devices that have an Intel Core i7 CPU or higher, and either an RTX 2080 GPU for desktops or an RTX 3070 for laptops. No word on how much the SpatialView monitors will cost, but given the technology, it is not likely to be cheap. It will be available this summer.