When photographer David Zapatka was growing up on Rhode Island listening to the foghorn of a nearby lighthouse, it instilled in him what his wife describes as an "obsession."
Zapatka is on a mission to document the U.S.'s disappearing lighthouses and has currently photographed 193 of them, all at night.
At one time there were more than 1,600 lighthouses permeating the coastlines of the United States, now there are a little over 800 of them.
To capture the unique structures, Zapatka uses an array of methods and equipment. Most unusual is his 20-foot tripod that a friend welded together for him so that he can wade out into the water and still take a 20-second exposure.
"We've successfully shot about 15 lighthouses otherwise unachievable unless we had this fantastic tool," Zapatka says of the Frankenstein tripod.
"It's been a game-changer for the project, and although we look quite crazy putting together the behemoth tripod while launching it off boats, the results are pretty amazing."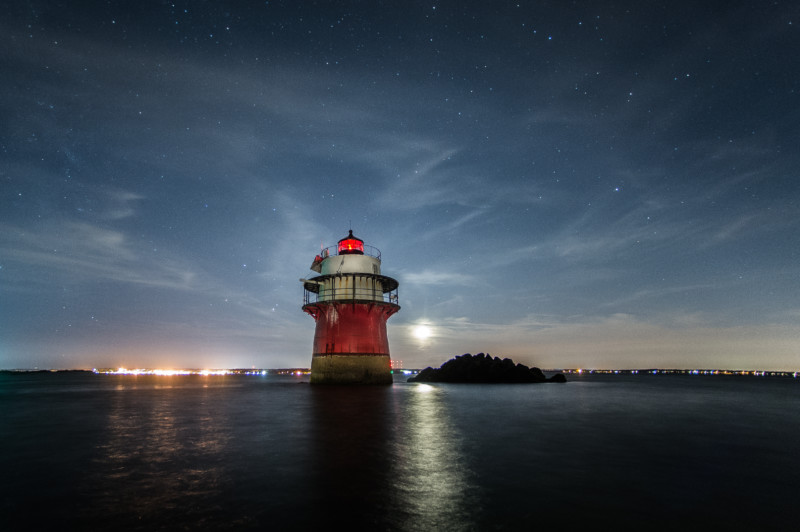 Despite the enormous tripod, Zapatka says that photography is the easiest part of the project and that researching each lighthouse is what takes the most time and energy.
"It's imperative and respectful to search out the right permissions from the right people to gain their trust and access prior to arriving on location," Zapatka tells PetaPixel.
After obtaining permission, research satellite imagery, navigation charts, moonspots and short-range forecasts are all important to ensure successful shoots.
"In a number of instances, I've done complete due diligence before arriving on location only to have a fog bank roll in. It can be frustrating at times, and it's also the reason why it has taken nine years to photograph only 193 lighthouses."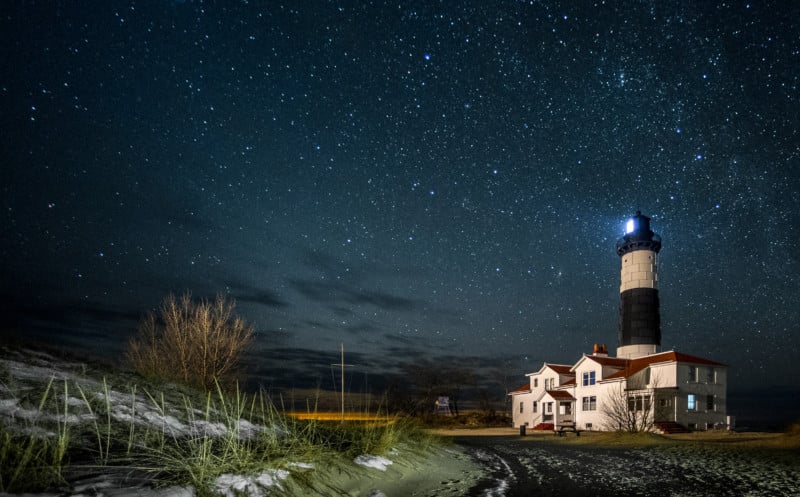 Photo Gear and Methodology
Before every shoot, Zapatka presets his 10-year-old Nikon D4 to ISO 2,000, 20-second exposure time, and white balance is 3,200K. His Nikkor 14mm f/2. 8 is always set at f/2.8.
"The shoot location determines the final settings, and most often it's directly affected by any ambient light remaining long after the sun has set. I use the ISO as the only variable, and manually focus on the flashing beacon," he explains.
For lighting, Zapatka uses a Lite-Panel Bi-Color 1×1 LED on a stand.
Zapataka says that all of his photographs are single images with "no Photoshop composing."
" I take pride in creating vintage-school, latent photos composed and lit in the field," says he.
"I've never added any stars to any photograph, and pretty much what is before my eyes on location is what is in the final edit.
I strictly follow the Associated Press style guidelines for ethical photojournalism, even though I am a sole client. I firmly believe a good photograph should be obtained using an intelligent approach in the field."
Then there is the matter of his homemade, 20-foot tall tripod that he uses in the ocean.
"The biggest hurdle for successful tripod images is the makeup of the bottom. "One never knows what lies below the surface. We hope it is flat and sandy," Zapatka says.
"Rocky and hilly bottoms are a nightmare when trying to set the tripod, and on a number of shoots I have had to abandon using it.
"It's often simply trial and error while on location floating in the dark near a historic lighthouse."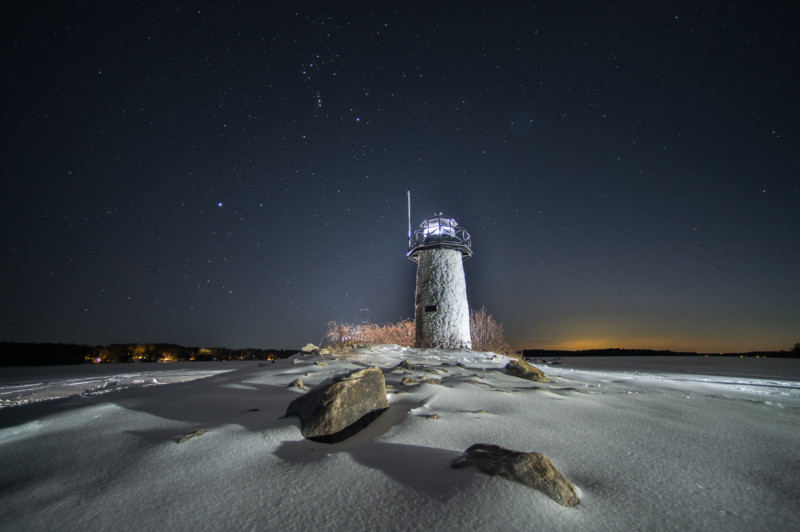 Zapatka is involved with the preservation of lighthouses and is president of Plum Beach Lighthouse in Rhode Island. The United States Lighthouse Society (USLHS) even donated a 20-year-old 22-foot recreational vehicle (RV) to help him travel to distant lighthouses.
"Since most of the shoots go late into the night, being able to avoid driving long distances on unfamiliar dark roads is a nice safety feature," he explains.
" "Many lighthouse foundations permit me to stay overnight on their property. It's very appealing to climb into a bunk and fall asleep under the glowing beacon of the tower's beacon after a successful shoot."
Other kit includes a rock-climbing helmet with headlamp, a personal floatation device, a miniature Emergency Position-Indicating Radio Beacon, ice crampons, and a pair of waders.
Zapatka published two books about lighthouses. . you can purchase them. They are now sold out, but there will be more in October.
---
Image credits: All photos by David Zapatka.