Looking to make basic adjustments to photos without having to shell out a lot of money for image editing software? You can access many online photo editors from your browser for absolutely free.
We've collected the top free online photo editors, which don't require you to download any software.
Read on to learn our picks and the features and strengths of each web app — the one you need is bound to be among them!
Free Online Photo Editor Index
1. Canva
While you can pay for a premium version of Canva, the free edition has several features that can help you enhance the look of your images. You can use the tool to alter the brightness of your pictures, along with tweaking the contrast and saturation as you feel necessary.
You can add filters to images using Canva's free editing software. This includes cropping, resizing and many other options. You can use your social media accounts to increase your presence online by adding your images to design and other features.
To use the free version of Canva, you need to sign up for an account. You'll have access to any features that don't have a "PRO" watermark or something similar.
2. Pixlr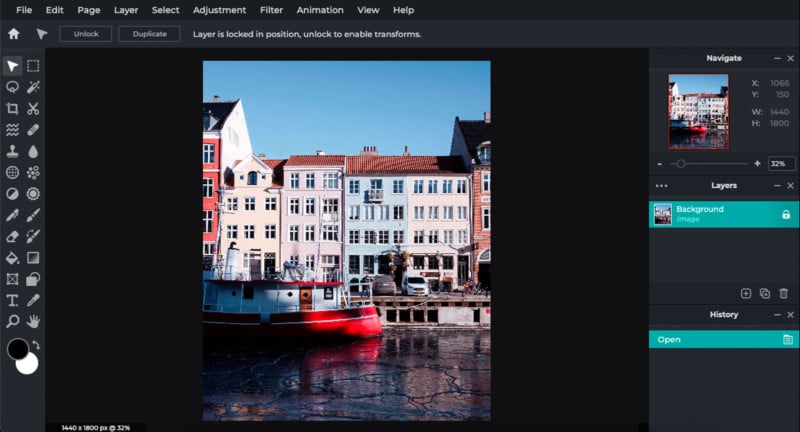 If you want an online photo editor that doesn't require signing up for an account, Pixlr might work better for you (though you can still register if you want). Pixlr has many free tools. If you need to modify your images you can use the PixlrE editor.
When using the free version of Pixlr, you can easily resize your images without too much hassle. The tool also lets you remove spots and other unwanted subjects from your picture, along with replacing colors in areas you feel necessary.
Pixlr lets you remove unwanted subjects from your photo, as well as create a "Bokeh" effect.
3. Fotor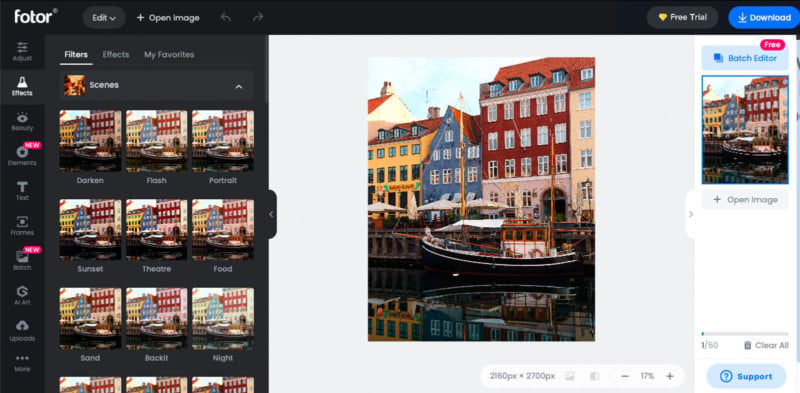 Fotor is an online photo-editing tool that allows you to sign up, but you can still use it if you choose not to. You might find the ads a little irritating with the free version, but the tool is ideal for simple edits if you can look past that.
With Fotor you have the ability to add many filters to images. There are many effects you can add to your images, including color splashing and lens flare. And if you want to crop your picture, you can do so free-handedly or by using one of the predetermined dimensions.
You can use Fotor to adjust the exposure and make adjustments for contrast, highlights, shadows, or other details. If you want to edit multiple pictures in one go, you can use a batch editing feature to do so.
4. PicsArt
PicsArt is a simple tool that can help you edit photos and videos without needing to learn how to use complicated software. The software can blend different parts of an image and add effects such as noise or high dynamic range (HDR). PicsArt allows you to add artistic effects to your image to give it a more painting-like look.
With PicsArt you can adjust the color, saturation and temperature using three sliders. You're also able to add or remove clarity, change the brightness of your picture, and much more.
If you have certain parts of your image that you'd like to remove, you can easily use the Erase tool to do so. PicsArt requires you to create an account before you can use it.
5. BeFunky
BeFunky is one of the most powerful online photo editing software solutions on our list. The free version allows you to use many image-editing tools, such as softening and blurring edges.
If you want to fix specific parts of your photo, you can also utilize features like red-eye reduction to do so. As you'd expect, an image editor allows you to crop, rotate, and resize your photo. You can also increase or decrease the exposure.
BeFunky allows you to add frames to any picture. There are many styles to choose from. You can also add overlays to your photo.
6. Photopea
Photopea is a simple online image editor that helps you retouch your photos as you feel is necessary. You'll be able to edit your photos as much or less than you would with other tools on the list.
With Photopea, you can automatically change tones, colors, and contrast with the click of a single button. If you need to reduce colors, Photopea can do so. You also have the option of cloning portions of your picture.
Photopea also gives you the chance to resize your image, along with adding filters and altering the hue and saturation. You can also access the curves of an image to make adjustments in that area. Photopea, a free alternative to expensive photo editing software is undoubtedly the best choice.
7. MockoFUN
You'll need to sign up for an account to use MockoFUN, but doing so is straightforward. You can register using your Google account, which will save you a little time compared to other means of doing so. After creating a profile you will have access to many tools to enhance the look and feel of your images.
Compared to some of the other services we've mentioned, MockoFUN is better for making designs with your images than making comprehensive edits. You can resize your photos in various ways, including for Instagram posts and other social media channels.
MockoFUN allows you to insert dividers into your content. It also lets you create infographics and slideshow presentations.
8. VistaCreate
If you want to try an alternative to Canva, VistaCreate is a good starting point. With VistaCreate, you've got plenty of options for editing your images including the ability to increase or reduce the picture's opacity. You can also change the overall color scheme of the picture by clicking the Image colors button.
VistaCreate also enables users to add borders to their creations, along with resizing pictures for platforms like Instagram. On top of that, you can stick one of multiple filters on your picture and tweak the tint and saturation of your photos.
VistaCreate allows you to add vignetting and adjust the contrast. You can also animate your photos and do many other tasks. It's easy to create an account and use the platform.
9. Stencil
Stencil is a popular online image editing and graphic design tool that has several free features worth taking advantage of. There are many filters that you can apply to images. These include retro, futuristic and older styles. The tool also enables you to flip your picture horizontally and vertically.
You can also use Stencil to darken your photos (if you feel that doing so is necessary) along with brightening when that's more of a requirement instead. If you want to add text to your picture, you also have the option to do that.
Stencil also lets you add icons to your pictures, in addition to using one of several templates to help you use your picture as part of a branding project. You will need to sign up for a Stencil account before you can use the platform, and it's worth remembering that you can save up to 10 images per month with the free version.
10. Edit.photo
If you want a photo editor with relatively advanced features for tweaking your images, Edit.photo is a handy free choice that works in your browser. The Finetune tab allows you to easily adjust the saturation and clarity of your images. You will also find the tools for changing temperature and exposure.
Edit.photo allows you to apply various filters with many color options and monochromes. You can also blur parts of the photo if you feel it's necessary to do so, along with resizing as you feel is necessary.
To use Edit.photo, you do not need to sign up for an account. You only need to upload an image to Edit.photo before you can start editing and exporting it to your device.
11. Online-Image-Editor
Online-Image-Editor is a user-friendly photo editor that allows you to upload and edit pictures without registering for an account. There are many basic tools that you can use, including rounding corners and cropping. The platform is also helpful for adding a frame, cropping, and more.
If you want to use more advanced features, you can do so by clicking on the Advanced tab. You can use this tab to create shapes, overlay and convert your file to another format.
Online-Image-Editor also lets you turn your picture into an animation and add icons that will flicker on your photo.
12. Picture Editor
Picture Editor pretty much does what it says on the tin: It enables you to edit your pictures. The platform doesn't require you to create an account. You can use the basic functions of the tool.
The Picture Editor tool allows you to crop, resize and even change the orientation of your images. Like the other online image editing solutions we've already mentioned, you can use Picture Editor to add filters to your photos – giving them the look you want.
If you want to add text and shapes to your images, you can easily do that from the Picture Editor interface. You can also "beautify" your photos, along with making avatars and more.
13. Flickr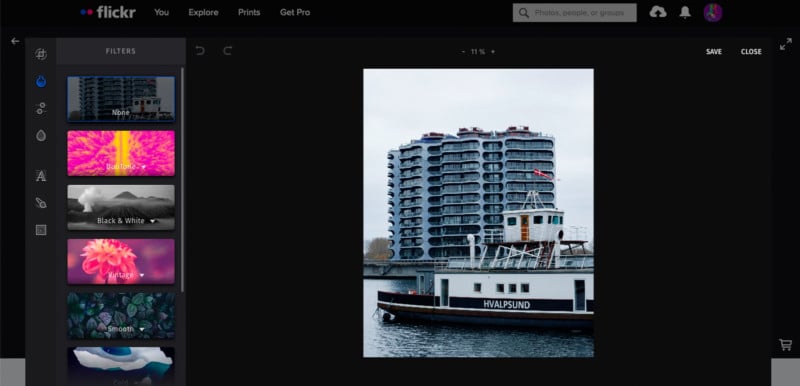 Ever since it was founded in 2004, Flickr has been a household name in the world of photography. And while many users have opted for other platforms like Instagram and Twitter, it's still an excellent place to share your pictures. But did you know that you can also use its free online photo editing tool?
Flickr has many features that you can use to give your photo the perfect look. This can help you maintain consistency in your feed, so others will click through and view your work.
The Flickr photo editing tool allows you to change the brightness of your image, as well as adjusting the gamma. Furthermore, you can tweak whites, blacks, exposure, and so on.
To use the Flickr photo editing tool, you will need to have an account. Once you have created an account, you will need to upload the photo you wish to edit.
14. Adobe Photoshop Express
Adobe Photoshop is one of the most famous photo editing tools, and it has several features that can help you make your photos look professional-quality. And in recent years, it has become much more accessible to the masses than was previously the case.
At the time of writing in July 2022, Adobe has made Photoshopping on your web browser free if you live in Canada. Over time, the company plans to roll the software out to other regions. You might be able access the Beta version via your Google Chrome browser, depending on your location.
Powerful Photo Editing for Free
While industry-standard photo editing programs like Adobe Photoshop and Adobe Lightroom are well worth the investment, you don't need a paid photo editing tool if you're only just starting out and only in search of basic editing features. You will find several online tools that won't cost you a cent to use, and – at most – will require you to sign up for an account.
Sure, you probably won't get the in-depth edits that paid software will help you with, but all the features and tools most people need can now be found through free online photo editors, and the gap between the worlds continues to narrow every year.